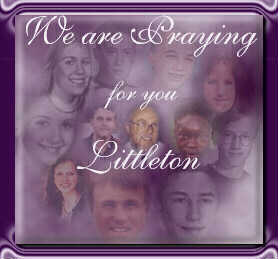 (graphic from redhare.com)
This is just my remembrance page for those who died at Columbine High School on April 20, 1999. Their stories and lives have touched mine and those across the world. We are all praying for you Columbine, as you grieve and cope with tragedy. My prayers also with those still recovering from injuries, be it physical, or emotional.
As a christian, the story of Cassie Bernall has touched my heart, as I wonder, would I have said yes? I look forward to the day that I will someday meet her in heaven. Here is a website that has sprung up from her affrimation of faith...
http://www.yesibelieve.com
Here are some really good memorial site that i've found.
Columbine-memorial- not complete, but definanately a nice site
Redhare-great graphics
dreampackers-a truly great site. I highly recomend this site.
Daniel Mausers family tribute
Rachel Joy Scott's family tribute